it's about equality. it's about time.
We are Dundee Pride and our mission is to take a positive stance against discrimination and violence toward the lesbian, gay, bisexual, trans, plus (LGBT+) community and to progress LGBT+ equality, awareness and inclusion within Dundee and the region. Our vision is to create a city and region where LGBT+ people have a strong sense of community, are a visible social group and can celebrate their history, activism and sexual and gender diversity.
We organised the first Dundee Pride event in 2018 and our 2019 event takes place on 21st Sept in Slessor Gardens!
Yaaaassss! Saturday 21st September 2019 will be Pride Day! There will be lots going on including the main event at Pride Village at Slessor Gardens which will involve lots of fiercely savage acts on stage and fabulous offerings at Pride Market. And of course…..there's Pride Parade! We've got lots more tea to spill over the next few months but check out what's been announced already below!
Applications are now CLOSED for performers and acts to perform on Pride Day in the Pride Village at Slessor Gardens! We have also received applications from stall holders for traders and food concessions for our Pride Market. We received almost double the amount of applications from Dundee Pride 2018!
WE WILL LET ALL APPLICANTS KNOW OUR DECISION BY 28TH JUNE.
So, we will be serving feels and fries, honey!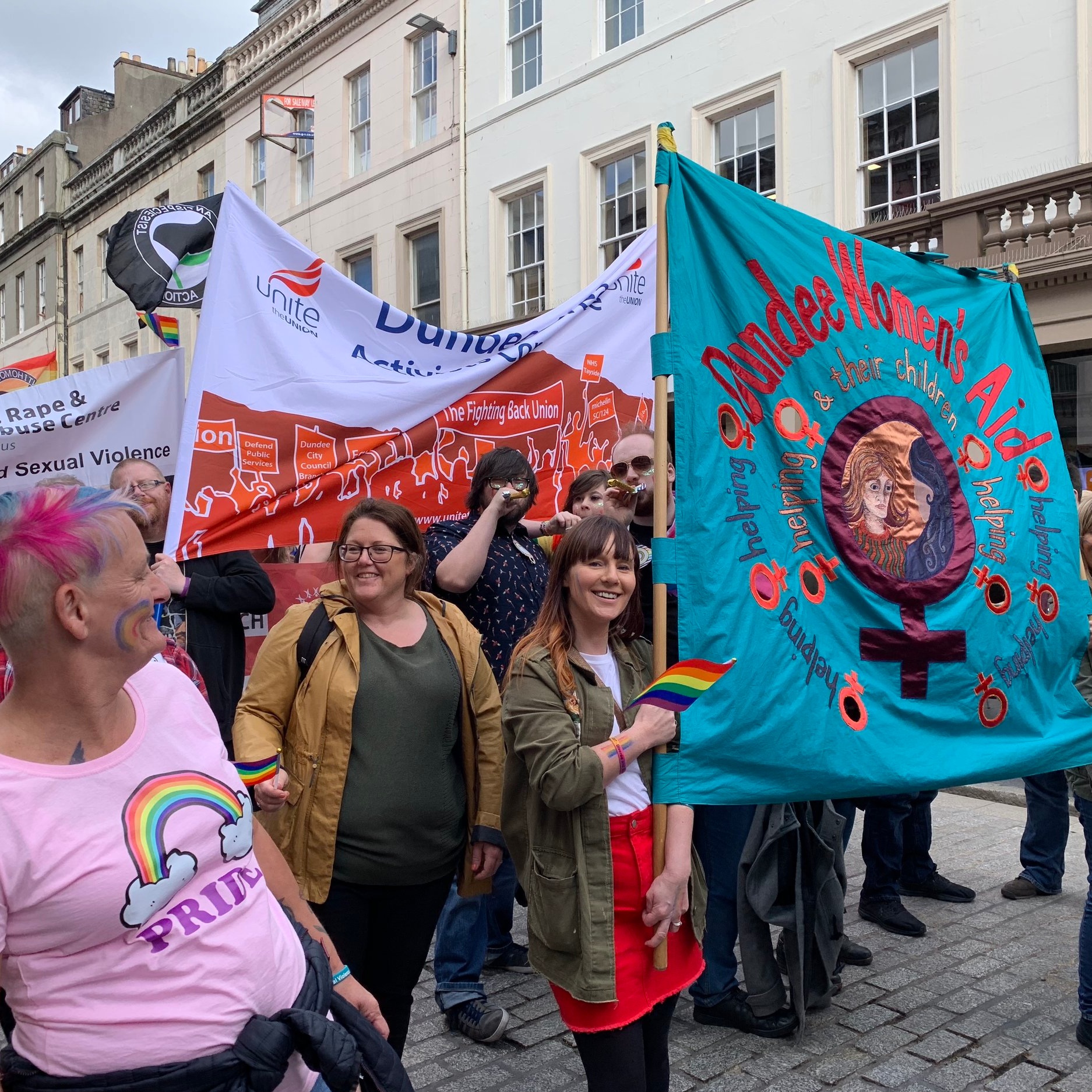 Registrations are now open for our Pride Parade on Pride Day on 21st September! The route will be revealed a bit later on so our gorgeous lips are sealed on that matter, henny! If you are group of 10 people or more than you will need to register, but any groups of under 10 people can just turn up - that goes for individuals too!
DUNDEE PRIDE CO-HOSTs 2019 REVEALED!
The fabulous Miss Peaches and Buschie Fandango will be your co-hosts for Dundee Pride 2019. Hear them talk about their roles at Dundee Pride 2019 in episode 2 of the Dundee Pride podcast with Tay FM below
pride blethers
Every month, we hold get togethers for the LGBT+ community to come together and socialise. We present our plans so far and ask for input from the community.
looking to partner with us?
We have formed a Partnerships & Programme Network with business and cultural partners in Dundee with the view to building a programme of activity across the city. Want to get involved? Click below.
Youth Zone
Are you a young person looking to get involved with Dundee Pride? Get in touch and we can connect with you the right support services.
Dundee Pride SCIO is a registered charity, run by a group of volunteers who govern the charity. We need your help! Could you make a donation to help us stage Dundee Pride 2019 and other tie events to make a difference to local LGBT+ people? No matter how big or small, it will be hugely appreciated.